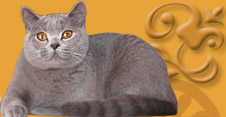 British male.

Ch (FIFe)
Khancoban Blue Anchorman
(home Ancher)


The young British boy.Blue Self.
DNA/PKD tested negative
Photo in 4 years!
He was born on June, 8th, 2006. In Сattery Khancoban, in England, his breeder - Mrs. Anne Cooper
Anchorman has been imported from the UK in November, 2006.
I would like to take my grate thanks to dear Ann for this remarkable cat.
Anchorman very beautiful and long-awaited cat. He is the most favourite in our family.
I thank my girlfriend Victoria for the help and support in obtaining of our boy.



Our alumnus, British Shorthair cat Oddi TinArden (her moniker in new home is MARGOSHA), celebrates 1 year!

My congratulations to her owner Natalia Zhukova.
This wonderful litter of tender and smart kittens has turned into beautiful British cats and tomcats.
This is proved by photos and videos that were sent to us:


Our alumnus, British Shorthair tomcat Oden TinArden (his moniker in new home is BARS), also celebrates 1 year! My congratulations to his owner Yuri Lobachev. On this occasion – watch this video:


March 2 and 3, 2013.Moscow.

The festive show "CATSBURG-2013" took place.

On December 23, 2012, Moscow.

20 International exhibition of cats "CHRISTMAS SHOW" of ASC.
We congratulate Yatsyuk Anna and the British cat Nikolosa on excellent results!
CAPIBx1,BIV,Neuter BIS.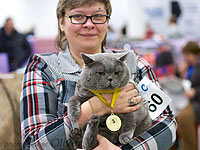 Video of the British short-haired girl of Tinka is added. Summer 2013.