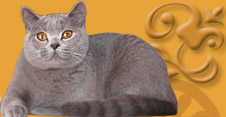 Er.Ch.(WCF),In.Ch. (FIFe)
Lord Lagend English Boy


The British cat blue
Was born on November, 15th, 2005 in nursery "TinArden*Ru".
On a horoscope - the Scorpion.Lives in Kirov. Cattery Revival*Ru.
The owner: Svetlana Sergeeva
Character kind and quiet. The Lord very much loves the spouse Betty.
Has successfully begun show - career in September, 2006.
We hope, in the future, this boy becomes the champion of Europe!




Our alumnus, British Shorthair cat Oddi TinArden (her moniker in new home is MARGOSHA), celebrates 1 year!

My congratulations to her owner Natalia Zhukova.
This wonderful litter of tender and smart kittens has turned into beautiful British cats and tomcats.
This is proved by photos and videos that were sent to us:


Our alumnus, British Shorthair tomcat Oden TinArden (his moniker in new home is BARS), also celebrates 1 year! My congratulations to his owner Yuri Lobachev. On this occasion – watch this video:


March 2 and 3, 2013.Moscow.

The festive show "CATSBURG-2013" took place.

On December 23, 2012, Moscow.

20 International exhibition of cats "CHRISTMAS SHOW" of ASC.
We congratulate Yatsyuk Anna and the British cat Nikolosa on excellent results!
CAPIBx1,BIV,Neuter BIS.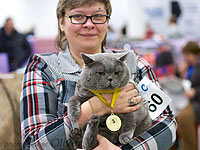 Video of the British short-haired girl of Tinka is added. Summer 2013.