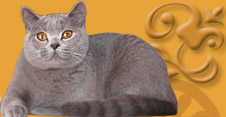 Welcome all of our guests!


My name is Nataly Suslova.
My small cattery is composed of British Cats – monochrome-colored (Self) cats and bi-colored cats.
Many of animals have ratings of experts, and cat-manufacturer is exported from UK in 2006.
While breeding we use new blood lines from England (Khancoban, Achuri), from Sweden (S*Kastanjeback's), from Australia (Kaloofa) and from Belgium – this Belgian blood line is already well established in Russia.
My cattery was founded in 2001 and was initially registered in Cat Lovers Club "Alisa-Best" (WCF). In February 2006 "TinArden*Ru" became the member of SuperCats Club (FIFe). And in the beginning of 2010 "TinArden*Ru" has entered in new progressive felinological alliance ASC.
I do not often visit the exhibitions and not chasing titles.
My goal – to get healthy and harmoniously developed British Shorthair cats of classical type, that fully meet the modern standards of the breed.
You can select and buy genuine British kittens in my cattery.
Moscow
Russia
Tel: +7-916-603-49-81.
E-mail: petcat@mail.ru • britancat@mail.ru•



Our alumnus, British Shorthair cat Oddi TinArden (her moniker in new home is MARGOSHA), celebrates 1 year!

My congratulations to her owner Natalia Zhukova.
This wonderful litter of tender and smart kittens has turned into beautiful British cats and tomcats.
This is proved by photos and videos that were sent to us:


Our alumnus, British Shorthair tomcat Oden TinArden (his moniker in new home is BARS), also celebrates 1 year! My congratulations to his owner Yuri Lobachev. On this occasion – watch this video:


March 2 and 3, 2013.Moscow.

The festive show "CATSBURG-2013" took place.

On December 23, 2012, Moscow.

20 International exhibition of cats "CHRISTMAS SHOW" of ASC.
We congratulate Yatsyuk Anna and the British cat Nikolosa on excellent results!
CAPIBx1,BIV,Neuter BIS.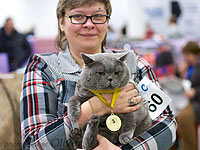 Video of the British short-haired girl of Tinka is added. Summer 2013.