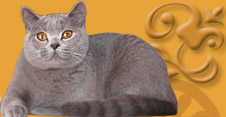 Odetta Prima Cat
(house name: Detunya ).


The British cat red and spotty with the white.
On a photo of 9 months!
Was born in the house of umoy girlfriend Nina, Koenig-Star*Ru (FIFe) nursery..
Birthday: On March 24 2008 g.
Tender and contact girl. The owner of a bright, elegant color, gives to the house a cosiness and heat.


Irisa TinArden*RU
(house name: Little girl )


British short-haired cat of a blue color.
On a photo of 10 months!
Was born at me in the house, in our nursery.
Birthday: On June 29, 2011.
Father: Khancoban Blue Anchorman
Mother: Jackie ROXERA*LT
Irisa stout and tender girl.
Amazing temperament, it is socially adapted, likes to look after kids.


Jackie ROXERA*LT
(house name: Kuka )


British short-haired cat of a blue color.
On a photo of 11 months!
Was born in Vilnius,in ROXERA*LT (FIFe)breeder Solana Izdunyte nursery.
I am very grateful to Solana for this surprising girl!
Birthday: On January 4, 2010
Jackie my favourite. It has a good temperament. She is excellent mother for kittens.


Dream from House of BRIton
(on the house: Dremushka ).


British short-haired cat of a lilac color.
On a photo of 1,5 years.
Arrived to us from St. Petersburg,
Natalia Plesnetsova's Cattery of "House of BRIton".
Mother: Efimia of Grey Volhov Pearl
Father: Wanton Kai Cat Land


Muramur Allegra Nikolaevna Arden
(on the house: Allusya)


British short-haired cat of a blue color.
On a photo of 6 months!.
Was born in Moscow, in nursery Muramur,breeder Otroshchenko Oksana.
Thanks to Oksana for a right choice
Birthday: On November 7 2011 g.
Allusya fantastic girl. My love and beauty. Sometimes happens the hooligan, but it brings me pleasure.
Father:Ch. (FiFe) Nikolas Smelyi King Arden
Mother: Muramur Taiti-Taiti



Our alumnus, British Shorthair cat Oddi TinArden (her moniker in new home is MARGOSHA), celebrates 1 year!

My congratulations to her owner Natalia Zhukova.
This wonderful litter of tender and smart kittens has turned into beautiful British cats and tomcats.
This is proved by photos and videos that were sent to us:


March 2 and 3, 2013.Moscow.

The festive show "CATSBURG-2013" took place.
On December 23, 2012, Moscow.

20 International exhibition of cats "CHRISTMAS SHOW" of ASC.
We congratulate Yatsyuk Anna and the British cat Nikolosa on excellent results!
CAPIBx1,BIV,Neuter BIS.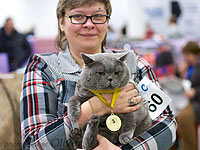 Video of the British short-haired girl of Tinka is added. Summer 2013.